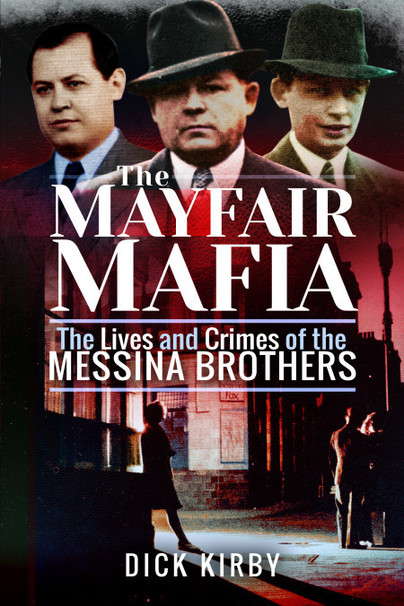 It is a little known fact that one immigrant Italian family ran London's thriving vice trade unchecked from the mid-1930s for some twenty years.

The five Messina brothers imported prostitutes from the Continent on an industrial scale, acquiring the women British citizenship by phoney marriages. Demanding 80% of earnings, the Messina became fabulously wealthy, purchasing expensive properties, cars and influence.

As this revealing and absorbing account describes, the brothers ruled with a ruthless combination of charm, blackmail and all too credible threats of disfigurement and death.

It took a sensational Sunday newspaper exposé to get the authorities to act. A series of dramatic arrests and trials followed and one by one the brothers were imprisoned and deported for crimes including immoral earnings, attempted bribery and firearms offences.

Such was their fortune that numerous potential beneficiaries came forward, most recently in 2012.

The author, a much published former Metropolitan police officer, has researched the remarkable criminal careers of the five Messina's and the result is a riveting and shocking read.
My Review
Thanks to Rosie Crofts, Digital Marketer for Pen & Sword for sending me this book sometime last year, I think. I've been bashing away at it for some time, anyway.
Kirby writes with wry humour about the less savoury side of London in the first half of the twentieth century. He goes back in time to describe the origins of the Messina brothers in Italy, Alexandria and Malta. Their equally vile father was born in Sicily in the late 19th century and made a living enticing and then selling women into sex slavery. He moved to Alexandria and married a Maltese woman in order to gain British citizenship, as both Malta and Egypt were under British 'protection' at the time. Two of the Messina brothers were born in Alexandria.
Thence, they moved to London. in London the family trade continued, this time with forcing women into prostitution on the streets of Mayfair. They arranged fake marriages for women from other European countries, trafficked them into London for the marriage, then installed the woman in a flat, usually with other women, to ply the oldest trade. Any woman who argued or tried to escape was imprisoned, beaten and abused.
The women were regularly arrested, while the Messinas grew extremely wealthy, owning several houses and expensive cars, flitting to the continent when things got hot.
They were violent, arrogant and vicious individuals, and the women who attached themselves most closely to the brothers weren't much better, actively assisting in the duping and prostituting of other women.
Eventually, a few people got sick of the Messinas and their equally appalling colleagues in crime, and started to do something about them. One was a journalist and the others were police officers. It took years but eventually the brothers either scarpered to the European mainland, or were arrested and imprisoned for living on immoral earnings. Inland Revenue also took an interest in their multiple bank accounts and safe deposit boxes. In Europe, the Belgians got a couple of them for human trafficking and illegal firearms.
Yet they still wriggled out of any more serious consequences. But death comes for us all, eventually and the brothers died off one by one, leaving squabbling 'wives' and forgotten bastards to inherit their massive fortune.
I'd say they were interesting if they weren't so repulsive. I have no problem with a person choosing to do sex work, but many of the women were coerced by the Messinas and their closest women friends.
The book is well researched and the author recognises the difficulties of the women and the police officers in dealing with the Messina clan. Kirby writes with dry humour and clear prejudices that he acknowledges in his writing. I struggled with some of the book but other parts I raced through.
If you're into policing and social history in London in the early to mid-twentieth century, then I recommend this book.