Have you ever found yourself watching a show or reading a novel and wondering what life was really like in the Civil War? Did the war really split families? Was Charles I just too stupid to be King? Did Cromwell really hate the monarchy and did Parliament actually ban Christmas?
In The English Civil War: Fact and Fiction, you'll find fast and fun answers to all your secret questions about this remarkable period of British history. Find out about people's lives and how the Civil War affected them. Learn about the role of women and if they merely stayed at home and suffered, and if Cromwell really was always miserable.
James Hobson brings to life the tumultuous and unprecedented period of history that is known as the Civil War. An unfussy yet accurate history, each chapter presents a controversy in itself and sets about dispelling commonly held myths about the Civil War.
My Review
Thanks to Rosie Crofts at Pen & Sword for sending me a review copy of this book. I've finally had a chance to get some reading done.
As the author says, the English Civil war was neither English or Civil, or a single war. It started with a rebellion by the Scots against their king's religious impositions (bishops and a new prayer book), then the Irish rebelled, then the English Parliament finally gave up on their king being amenable to discussion. Unfortunately the King of Scotland was also the King of England, and the things he wasn't being reasonable about included bishops and church services. It gets even more messy and confusing after that.
We learn about the Civil War at school but it's usually a king&lords vs. parliament&commons quick tour featuring the royal family, a couple of famous battles followed by executions and daring escapes, Oliver Cromwell and then the restoration. Occasionally people mention Bishop Laud and the religious controversy at the time and try to bring democracy into it all.
It really, really wasn't like that at all. It was a blood mess, arguments of religion and politics, and how much power a king should have. It was a war between wealthy people who wanted to remain wealthy, but who were scrapping over how big a piece of the pie they should each have. Unfortunately, everyone else got dragged in as cannon fodder. It was never about democracy, although groups like the Levellers tried to argue for something like it. They were quickly murdered by Cromwell and his army, even those who were part of the army.
Religion was also a major part of the cause. The king was all for show – Bishop Laud really wanted decorated churches but he was never a Catholic. But pretty churches and bishops went against the beliefs of the Scottish church, Puritans and various Independent churches, and fears about Catholicism, stoked by two centuries of aggression and rivalry, mixed up together. When the Irish revolted against English rule, Parliament saw Catholic plots everywhere.
Why don't we talk about the Civil War much?
Because it hurts still and we're still dealing with the consequences. We don't want to talk about religion and politics because it might be a minor disagreement now, but we know that minor disagreements can turn into bloody feuds and slaughter if it goes too far and we don't stop in time.
And then there's Ireland.
After Fairfax and Cromwell reformed the Parliamentary army into the New Model Army, defeated the Royalists and killed the king, Cromwell decided to deal with the Irish 'rebels'. By then his army just wanted their pay and to be disbanded, so lots were chosen and the losers went to Ireland. In the war that followed, Cromwell acted according to the rules of warfare of the time, and committed ethnic cleansing. He, and his men, were terrified of Catholics. Most of Ireland's population was Catholic. So anyone who didn't die, or convert, was pushed into the west. Where the land was poor and at the mercy of Atlantic storms and fog (see the Great Famine).
There's also the problem that nobody really liked the winners. Even in their own day, people didn't particularly like the religious zealots who tried to impose their ideas of acceptable behaviour on everyone else. They've gone down in history as miserable god-botherers with terrible haircuts.
Charles II appeared in 1660 and brought fun back.
And syphilis.
After the Restoration nothing seemed to have changed. Parliament did most of the day to day country running, the official church was still the official church, and the king was still in debt. What was it all for? What was the point if nothing had changed? So forget about it, forget it happened, rush over it in history class. It's too complex for kids anyway.
This book deals with the myths and misconceptions of the Civil War in an evenhanded and accurate fashion. It is written in a style that is easy to read and absorb, that flows from one subject to another, and doesn't shy away from the painful aspects of the war or the consequences.
---
Bonus Review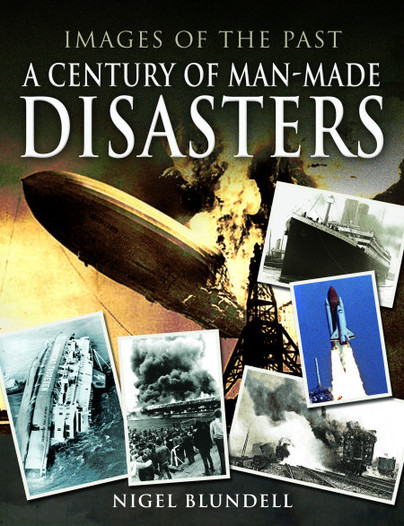 This book is a catalogue of disaster – literally. Within its pages are the major man-made calamities that shocked the world throughout the twentieth century.

It was a period during which the power and scale of industrialisation changed the planet, an unforeseen consequence being the creation of more human-created catastrophes than ever before experienced.

The events recorded here include the needless carnage of history's worst air disaster when two jumbo jets collided on the island of Tenerife. We recall the horrors of Aberfan, the Welsh village in which schoolchildren were buried alive. The story of the explosion aboard the Challenger space shuttle reveals how warnings that were ignored led to the deaths of seven astronauts. And we report on the failings that caused the nuclear nightmare at Chernobyl, a poisonous blot on the face of the globe.

These and the other misadventures in this book were all man-made and, it seems, just waiting to happen. A further link between these horrific events is that they were all caused by either folly or greed – or both.

But despite the tales of monstrous misfortune, many also produced heart-lifting stories of human resilience, selflessness, sacrifice and heroism.More titles by Nigel Blundell
So, I managed to get another Pen & Sword book finished today! I'm trying to make progress on my backlog of Pen & Sword books during the next few weeks, since I don't have many blog tours booked in. Anyway, since this is a bonus review, it's going to be a bit shorter than my usual.
I was able to sum up my thoughts in a single sentence…
The author pairs strong writing with perfectly chosen images to briefly, yet comprehensively tell the stories of 15 different disasters over the 20th century.