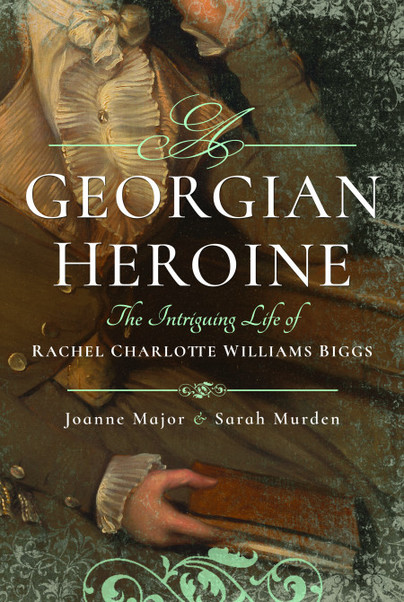 Published By: Pen & Sword History
Publication Date: 27th November 2017
I.S.B.N.: 9781473863460
Format: Hardback
Price: £19.99
Blurb

Rachel Charlotte Williams Biggs lived an incredible life, one which proved that fact is often much stranger than fiction. As a young woman she endured a tortured existence at the hands of a male tormentor, but emerged from that to reinvent herself as a playwright and author; a political pamphleteer and a spy, working for the British Government and later singlehandedly organising George III's jubilee celebrations. Trapped in France during the revolutionary years of 1792-95, she published an anonymous account of her adventures. However, was everything as it seemed? The extraordinary Mrs Biggs lived life upon her own terms in an age when it was a man's world, using politicians as her mouthpiece in the Houses of Parliament and corresponding with the greatest men of the day. Throughout it all though, she held on to the ideal of her one youthful true love, a man who abandoned her to her fate and spent his entire adult life in India. Who was this amazing lady?

In A Georgian Heroine: The Intriguing Life of Rachel Charlotte Williams Biggs, we delve into her life to reveal her accomplishments and lay bare Mrs Biggs' continued re-invention of herself. This is the bizarre but true story of an astounding woman persevering in a man's world.
My Review
Rachel Charlotte Williams was born in Caerleon in the mid-18th century. soon after her parents moved the family to London, where they prospered. Rachel, or Charlotte as she was generally known, grew up to be an intelligent and pretty young woman. Her mother died and she was sent to France for a convent education. Returning to London at fifteen, educated and fluent in French, she fell in love with the future Baronet Ochterlony. Unfortunately he went off to India to join the East India Company, and Charlotte was left heart broken. Life then took a terrible turn.
Charlotte spent time in France, nominally married to Benjamin Hunt Biggs, an acquaintance from Lambeth, just before the French Revolution. As an 'alien' she was interred for some time, before returning to England after Robespierre's execution. Biggs pretty much disappears from her life at this point, they were ships in the night. Charlotte anonymously wrote a book about France before and during the Revolution and Terror. She started corresponding with senior politicians. Over the years she would travel frequently to the Continent, address many letters to powerful men and organise a national Jubilee for King George III. She used politicians as her mouth-piece in Parliament, and contributed to many propaganda pamphlets. In her later years she wrote a 'Testament' that she sent to her old flame, Ochterlony, in India; an autobiography telling her version of her life.
This document was later found by Marius Kocejowski, a descendent of Ochterlony, in a book shop while he was emptying cupboards. He wrote his own book on the subject, and in 2016 the authors wrote to him, after they had started their own research into the subject. With letters to William Windham, her pamphlets and other published work, the authors built a narrative of an unusual woman, born 'trade' but who died a 'gentlewoman', who suffered through several ordeals and tried to influence politics.
It was a fascinating read, bringing to life Rachel Charlotte Williams Briggs and her times. Drawing on several primary sources to delve into the life of this interesting woman, who would undoubtedly be better known if she was a man.
The writing flows well and the images used are pertinent.
4/5