Women and the Gallows 1797 – 1837: Unfortunate Wretches
By Naomi Clifford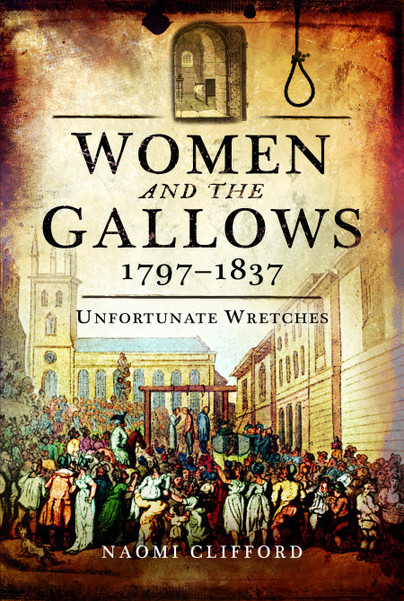 Published by: Pen and Sword History
Publication Date: 2nd November 2017
I.S.B.N.: 9781473863347
Price: £15.99
Format: Hardback
Blurb

131 women were hanged in England and Wales between 1797 and 1837, executed for crimes including murder, baby-killing, theft, arson, sheep-stealing and passing forged bank notes. Most of them were extremely poor and living in desperate situations. Some were mentally ill. A few were innocent. And almost all are now forgotten, their voices unheard for generations.

Mary Morgan – a teenager hanged as an example to others.
Eliza Fenning – accused of adding arsenic to the dumplings.
Mary Bateman – a 'witch' who duped her neighbours out of their savings.
Harriet Skelton – hanged for passing counterfeit pound notes in spite of efforts by Elizabeth Fry and the Duke of Gloucester to save her.

Naomi Clifford has unearthed the events that brought these 'unfortunates' to the gallows and has used contemporary newspaper accounts and documents to tell their stories.
My Review
Women were hanged less often than men, and for some crimes that were unique to them, for instance 'petty treason'. In the forty year period covered by this book 131 women went to the gallows. Some of them were probably innocent, for example Eliza Fenning, accused and found guilty of murder by poisoning. Evidence was slim but she'd had a minor disagreement with one of the victims and the family who employed her wanted to hide the fact that their son had threatened the victim. The judge was a hanging judge, with little sympathy for working class women during a time of middle class fear of servants, and the court was packed against Eliza.
The book is separated in to three parts: crimes against the person, crimes against property and a chronology of women executed between 1797 and 1837. It highlights individuals and their stories in sympathetic prose, with reference to contemporary sources drawn from biographies, letters and newspaper reports.
This book is easy to read, interesting and explores Georgian/Regency attitudes to criminal women, the death penalty and social circumstances, especially the Bank Restriction act, which came in at the start of the period and saw a rise in forgery of small notes and a consequent increase in prosecutions and executions.
A useful insight into women's criminal acts and the response to these in the period covered.
4/5