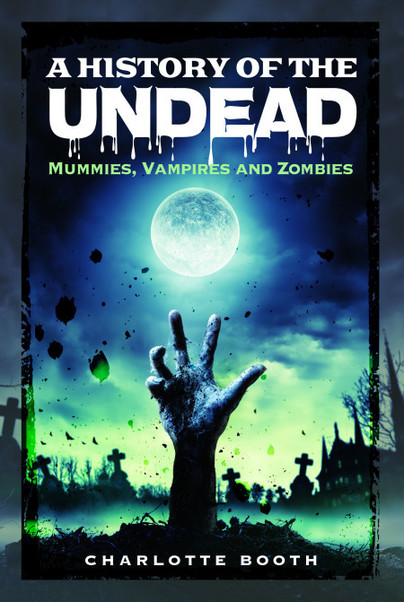 Are you a fan of the undead? Watch lots of Mummy, zombie and vampire movies and TV shows? Have you ever wondered if they could be 'real'?
This book, A History of the Undead, unravels the truth behind these popular reanimated corpses.
Starting with the common representations in Western Media through the decades, we go back in time to find the origins of the myths. Using a combination of folklore, religion and archaeological studies we find out the reality behind the walking dead. You may be surprised at what you find.
My Review
Thanks to Rosie Crofts at Pen & Sword for my review copy. I'm going to read the author's book about ancient Egypt next.
The Rosie Synopsis
The book is divided into seven chapters, two each on mummies, two on zombies and three on vampires. The author covers the literary and film history of the undead in one chapter and then the folklore in the second chapter. In the vampire section Booth also covers the modern 'vampires' – people who think they're vampires or live a 'vampire lifestyle'.
The Good
I liked the way the author wrote the chapters as individual essays, because they can be dipped into, and the illustrations. It is a good introduction to the subject, and the author states that it is an introduction not the be-all-end-all on the subject.
The Not-So-Good
Despite my enjoyment of academic texts, I found it was a bit dry at times and there were some errors in reference to some of the televsion series.
It would have been good to have a summation chapter drawing all the thought lines together.
The Verdict
Not a bad introduction to the subject.