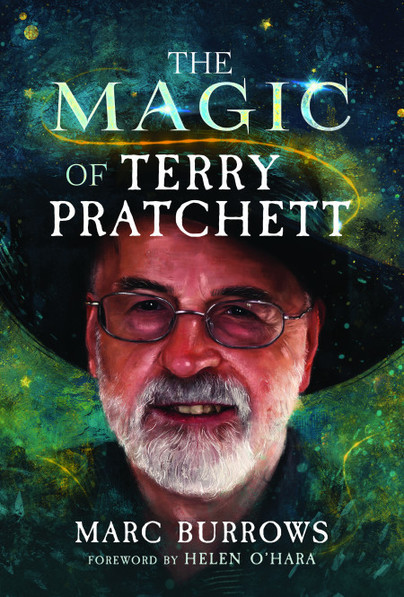 Published By: Pen & Sword – Imprint: White Owl
Price: £13.99
ISBN: 9781526765505
Published: 6th July 2020
The Magic Of Terry Pratchett is the first full biography of Sir Terry Pratchett ever written. Sir Terry was Britain's best-selling living author*, and before his death in 2015 had sold more than 85 million copies of his books worldwide. Best known for the Discworld series, his work has been translated into 37 languages and performed as plays on every continent in the world, including Antarctica. Journalist, comedian and Pratchett fan Marc Burrows delves into the back story of one of UK's most enduring and beloved authors; from his childhood in the Chiltern Hills, to his time as a journalist, and the journey that would take him – via more than sixty best-selling books – to an OBE, a knighthood and national treasure status. The Magic Of Terry Pratchett is the result of painstaking archival research alongside interviews with friends and contemporaries who knew the real man under the famous black hat, helping to piece together the full story of one of British literature's most remarkable and beloved figures for the very first time.
*Now disqualified on both counts.
My Review
Thanks to Rosie Crofts at Pen & Sword for sending me this book in return for an honest review. As some may know, I am a big Discworld reader. I acquired my first Discworld book in about 1997 when, bored one day I meandered from my bedroom to the room shared by my two sisters, and browsed the bookshelves. There I found a book called Equal Rites, by Terry Pratchett. It had a garish cover and an interesting blurb. I took the book back to my room and fell in love with the Discworld. Granny Weatherwax remains my favourite character and her death, and the return of Esk in The Shepherd's Crown is why I'm struggling to read it. For me, it brings my reading back full circle. It's very painful.
When I first picked up a Discworld I wasn't aware that STP had been writing the series for 14 years already, or that he'd written so much more. I borrowed books where I could from the library and bought paperback copies from bookshops when I had some money. It wasn't until the early 2000s that I could afford to buy the hardbacks when they came out. I have a bookcase full of Discworld books and I'm collecting the hardback 'Unseen Library' editions. I'm waiting for my illustrated copy of Guards! Guards! to arrive from The Discworld Emporium sometime this month ( I have it on pre-order).
My point is, I love the Discworld.
But I didn't know much about Sir Terry himself. I never went to the Discworld Conventions, or any others, because I couldn't afford to, and I wouldn't have dared to disturb him with a fan letter. It would have been importunate of me to write to him. I just couldn't. I have spoken, in a Facebook group, to Stephen Briggs, to tell him he's my favourite narrator of the Discworld audiobooks. Stephen Briggs is a part of Team Pratchett and has been for decades. I didn't know this until I read The Magic of Terry Pratchett.
The book tells the story of STP in chronological order from his birth and council estate childhood in 1950s/60s Beaconsfield to his death in 2015 as a multi-award winning, multi million selling, author in a mini manor house in the chalk lands. Burrows uses archival material, interviews with friends and Sir Terry's own words to build a picture of his life, influences, personality and writing. The book really comes into it's own when it moves out of the purely biographical and gets into Pratchett's writing, whether as a journalist or author. Like The Creator, Burrows uses footnotes to add context or humour to the narrative. His jokes aren't as funny as Pratchett, but he tries.
Burrows is not uncritical of Pratchett, pointing out where reality and the Pratchett anecdote diverge. We learn about the masks STP wore for different audiences. His interviews were always filled with prepared one liners that could seem to be 'off the cuff' remarks, and he was a 'jolly old elf' for fans at conventions and signings. Possibly his wife and closest friends saw the real Terry. It's not really for us to know, let him remain the 'jolly old elf' telling stories, filled with anger at the unfair ways of the world and the message to be decent to each other. This biography highlights the breadth of his oeuvre, and the continuing themes that arose in the much tweaked The Carpet People and continued across all his books.
This is a book written by a fan for fans. In the absence of the memoir Terry and Rob were working on before Sir Terry's death, or the biography Rob Wilkins is rumoured to be writing, this book will do.
Mind how you go.
GNU STP