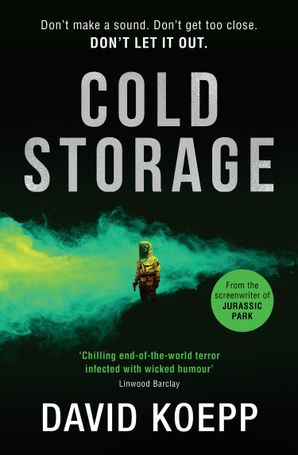 Blurb

When Pentagon bioterror operative Roberto Diaz was sent to investigate a suspected biochemical attack, he found something far worse: a highly mutative organism capable of extinction-level destruction.

Now, after decades of festering in a forgotten sub-basement, the specimen has found its way out and is on a lethal feeding frenzy. And only Diaz knows how to stop it.

He races across the country to help two unwitting security guards – one an ex-con, the other a single mother. Over one harrowing night, the unlikely trio must figure out how to quarantine this horror again . . . before it's too late,
Review
Thanks to Lily at HQ for sending me a copy of this book. I wasn't sure it would get to me in time for the publication day push but it did, and once I'd collected it from the delivery office on Sunday, I started reading immediately.
I think, including bus reading time, it took me about 5 hours to read this novel. The first part, set in 1987, was horrendous for my parasite-phobia, but once I got that under control and had a break, I sat for over four hours absolutely gripped by the story.
I really enjoyed the characterisation of Teacake and Naomi, the development of their relationship, and their conversations. Roberto and Trini, the aging, and retired agents, have a cynical, experienced attitude that allows them to save the day, while the younger pair are doing the actual running around.
The story was creepy and thrilling, I got utterly engrossed and lost track of time. An hour would pass completely unnoticed by me as I followed the various characters.