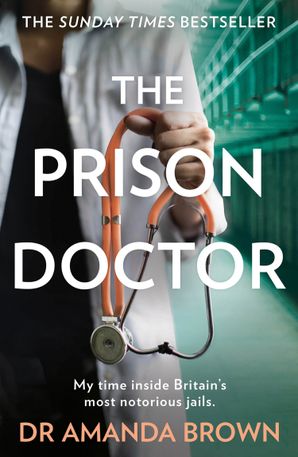 Blurb

Horrifying, heartbreaking and eye-opening, these are the stories, the patients and the cases that have characterised a career spent behind bars.

Savage beatings, dirty protests, drug addiction, depression and prisoners desperate to turn their lives around, Dr Amanda Brown has seen it all.

The no-holds-barred memoirs of a GP who went from working at a quiet suburban practice to treating the country's most dangerous criminals – first in young offenders' institutions, then at the notorious Wormwood Scrubs and finally at Europe's largest women-only prison in Europe, Bronzefield.

A doctor devoted to caring for those most of us would rather forget
My Review
Thanks to Joe and the HQ gang for sending me a copy of this book last week.
I've really struggled with writing this review. Not because of anything negative, on the contrary, it's a fabulous book, written with grace and compassion. It's because I feel so much empathy for Dr Brown and her patients that I don't know where to start.
The narrative – even medical non-fiction has a narrative of sorts – is simple. An NHS doctor in a 'nice' suburban practice gets sick of the changing NHS rules and leaves. She takes agency work first in a young offenders institute, then a men's prison, and then in a women's prison. After 15 years, and approaching official retirement age she writes a book about her experiences.
But it's so much more than that.
This book is a window into a world most of society would like to forget, and into people most have written off as criminals not worthy of compassion or support. I have, for some years, wondered about why people end up in prison, ever since my own cousin was imprisoned for a few years. What are the underlying, sociological causes?
Dr Amanda Brown shows us some of those causes. Abuse. Assault. Addiction. Arrest. So many of the people she works with, especially the women, were victims failed by the system that's now imprisoned them.
A child sexually abused who becomes an adult who takes drugs to forget the trauma and turns to theft when they're homeless. They shouldn't be in prison. They should be in therapy. Getting counselling, getting support to recover or find ways to live with the trauma.
But, each time they get out they end up back on drugs or back on the streets, and back in prison. A revolving door of dependency and criminalisation that leaves people institionalised.
Surely, for these people it'd be better to support them while they're in prison to beat their addictions, support them through their mental health conditions and provide a better better release path so they can get on their feet and might avoid a return to prison? It'd probably be cheaper in the long term, too. Not that money should be the reason. Compassion for a fellow living being should be enough, if you have any empathy at all.
That's not to say there aren't dangerous people, there always will be those who deserve to be in prison, for everyone's safety. Child molesters, serial killers, professional criminals. Even if you work out what caused their behaviour, that doesn't change the harm they do.
Dr Brown deals with them all with compassion, the abused women who turned to drugs, the monster's wife who fully accepted the prison term and her crime, the young offender in for several years for a violent crime, the suicidal mam who killed his abusive father, the confused fraudster who doesn't quite understand why he's there, the paedophiles the other prisoners tried to kill… Doesn't matter who they are or what they've done, she treats them all as a patient who needs care, compassion and someone to listen to them.
I cried, a lot, while reading this book, for Amanda (especially when she was forced out of the practice she built because of the changing NHS rules and her partners' intransigence) and her patients. So many people with difficult lives that I can't imagine but can empathise with. This was an emotional read, an evocative description of life as a prison doctor and a window into a place most of us hope never to go.