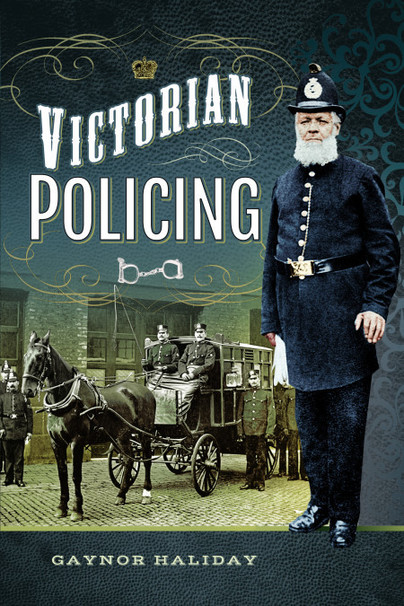 Published By: Pen & Sword History
Publication Date: 15th November 2017
I.S.B.N.: 9781526706126
Format: Paperback
Price: £10.50
Alex at Pen and Sword emailed me last November to see if I wanted to review this book. I had a long list of books to review so I've finally got round to it.
Blurb

What was life like for the Victorian bobby? Gaynor Haliday became fascinated with the history of the early police forces when researching the life of her great, great grandfather; a well-regarded, long-suffering Victorian police constable in Bradford. Although a citation claimed his style of policing was merely to cuff the offender round the ear and send him home, press reports of the time painted a much grimmer picture of life on the beat in the Victorian streets.

Handwritten Watch Committee minutes, historical newspapers and police records combine to reveal an account of how and why the various police forces were set up; the recruitment, training and expectations of the men, the issues and crimes they had to deal with, and the hostility they encountered from the people whose peace they were trying to keep.
My Review
This book covers the development of police forces in England during the Victorian period, from a mishmash of unpaid Night Watchmen to the organised police forces of the cities and boroughs, with pension schemes, career progression and continuing education programmes.  The author uses a variety of first-hand historical sources.
This book is thorough in its coverage. I would definitely recommend it to those interested in the period or writers of historical fiction. It's not the most gripping of subjects and there's only so much you can do to make it fascinating reading, but the author does a good job of keeping the reader's attention with her sensitive and intelligent writing, and the anecdotes of police life add colour to the dry historical facts.
3/5