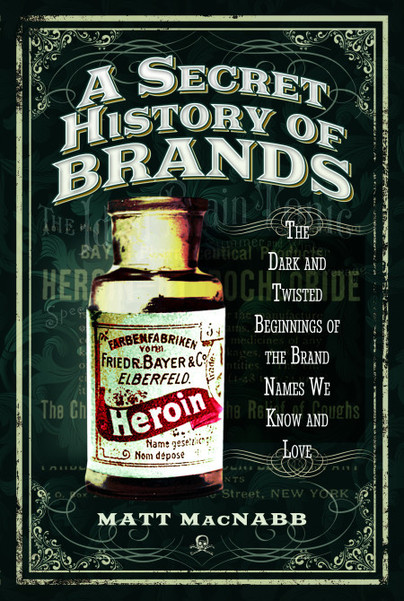 Published By: Pen & Sword History
Publication Date: 4th September 2017
I.S.B.N.: 9781473894174
Format: Paperback
Price: £12.99
Blurb

We live our lives immersed in name brand products. It's hard to drive down the street without seeing a plethora of chain restaurants, car dealerships, branded clothing they're all around us. What most of us don't know is that the origins of many of the most well-known and beloved brands in the world are shrouded in controversy, drug use and sometimes even addled with blatant racism.

A Secret History of Brands cuts through the rumours and urban legends and paints a picture of the true dark history of famous brands, like Coca-Cola, Hugo Boss, Adidas, Ford, Bayer, Chanel and BMW among others. Explore the mystery of the cocaine content of Coca-Cola, the Hitler-Henry Ford connection and why Bayer is famous for Asprin, but began their journey with Heroin, and how Kellogg's Corn Flakes were crafted to deter sexual arousal. Thoroughly researched, MacNabb details first-hand conducted interviews alongside fairly weighed research to present the decisive view of brands histories that you haven't heard of yet.
My Review
We are all aware of major brands, pretty much everything is owned by some major company or another. This book covers nine, mostly from the U.S. or Germany. 'Dark and Twisted' beginnings is a bit hyperbolic three of them. Okay, Coco Chanel wasn't a particularly pleasant person but compared to Bayer and their use of slave labour at Auschwitz, or Ford and his rabid antisemitism and anti-union behaviour, being a bitch and sleeping with a Nazi spy is hardly comparable. Leo Baekeland was a happy little Belgian chemist, his descendants had nothing to do with his inventions so nothing to do with the brand's beginnings. The Winchester brand has no darker an origin than any other weapons manufacturer, and Sarah Winchester wasn't involved in the production of Winchester riffles. She was an eccentric, creative architect who lived in semi-seclusion brought on by intense grief.
So, a third of these brands don't really have dark and twisted beginnings, just interesting stories. The other six? Fairly dark and really twisted in a couple of cases, the worst being that of Bayer. If you want to know just how much coca really was in early coca-cola, how Hugo Boss survived Hitler's Nazi Germany, or how the Dassler brothers' rivalry lead to the formation of two famous footwear companies, shod Jesse Owens in the 1936 Olympics, and survived Nazi Germany and the post-war Allied occupation, I recommend this book.
I sat and read it yesterday afternoon and this afternoon; it certainly kept me interested. There were odd printing errors but nothing much, the book was easy to read and the illustrations pertinent.
3/5