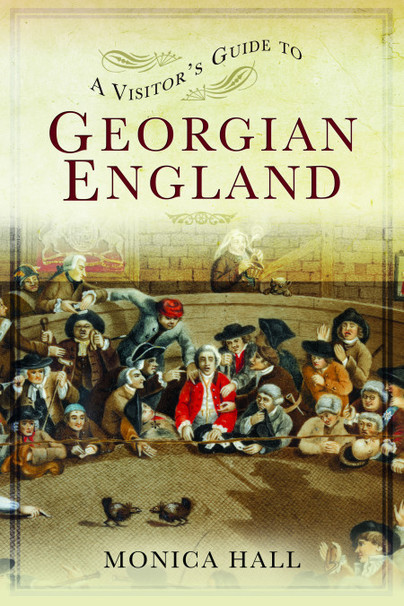 Published By: Pen & Sword History
Publication Date: 4th September 2017
I.S.B.N.: 9781473876859
Format: Paperback
Price: £12.99
Blurb

Could you successfully be a Georgian? Find yourself immersed in the pivotal world of Georgian England, exciting times to live in as everything was booming; the Industrial Revolution, the Enlightenment, and the nascent Empire; inhabited by Mary Shelley, the Romantic Poets and their contemporaries. However, rather than just wondering about the famous or infamous, you will find everything you need to know in order to survive undetected among the ordinary people. What to wear, how to behave yourself in public, earn a living, and find somewhere to live. Very importantly, you will be given advice on how to stay on the right side of the law, and how to avoid getting seriously ill. Monica Hall creatively awakens this bygone era, filling the pages with all aspects of daily life within the period, calling upon diaries, illustrations, letters, poetry, prose, 18th century laws and archives. This detailed account intimately explores the ever changing lives of those who lived through Britain's imperial prowess, the birth of modern capitalism, the reverence of the industrial revolution and the upheaval of great political reform and class division. A Visitor's Guide to Georgian England will appeal to Romantic poetry lovers, social history fans, fiction and drama lovers, students and anyone with an interest in this revolutionary era.
My Review
To get along well in Georgian England you needed to be a rich man with connections in London (so nothing's changed there then). Everyone else was stuffed. And while life may have been hard, people had fun when they could. Gambling, drinking, the theatre and other entertainments kept people amused, while scientific and social developments started the process of improving lives and creating wealth, for the middle classes. The Industrial Revolution changed working conditions and people started to move in large numbers from the country to towns and cities for work. Working and living conditions were horrible but the pay compensated. The Georgian period was a time of optimism and expansion that provided the foundation for later Victorian developments.
If you've never read anything about the eighteenth century and want an introductory text, then this is for you. It doesn't go into massive amounts of details, you won't find any exploration of the political atmosphere at the time and scientific discoveries are barely covered, but if you want to know what to wear, eat and do for fun, it's a good book.
3/5