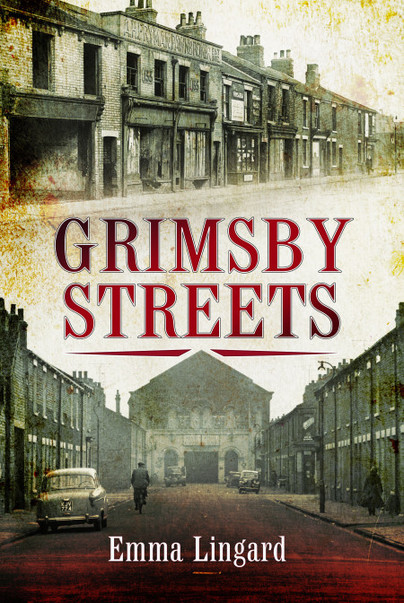 Published By: Pen & Sword History
Publication Date: 6th July 2017
I.S.B.N.: 9781473876019
Format: Paperback
Price: £12.99
Blurb

Grimsby Streets is a journey through time, which examines the meaning of many of the towns names and their association with the Danish settlers, through to the Victorian era, and the men who helped develop the town and build its surrounding docks.

Names of the great and good that were forgotten until now are explored, as well as some of the many famous people who were born there, and where they lived. The book also covers the many incidents, which occurred on Grimsby's streets, to give a colourful insight into the history of this once famous fishing port and some of the many wonderful buildings that stood in this proud port.

Included throughout are a selection of old photographs, some of which have never been published before, which for many folk will give them a reminder of what this town used to be like before change and demolition in the 1960s.
My Review
Second review of the day. Pen & Sword sent me a pile of books just before I moved so I'm working my way through them. Since I've just moved to Grimsby I thought it would be interesting to find out a bit about the history of the street I live on.
It isn't in the book. Much sads. But it was interesting getting there.
Emma Lingard is a local writer, she was brought up in Scartho and lives in Healing. This afternoon she'll be at the National Fishing Heritage Centre signing copies of her new book. If I wasn't a bit battered and bruised, and coughing nastily, I'd probably be going to see her. Though I should also be at a christening in Immingham this morning, but again battered, bruised and coughing so not there. I've seen her local history articles in various local magazine.
Grimsby has had a patchy history, but from the mid-nineteenth century it started to grow as fishing became the major trade and a lot of the roads and buildings laid out then still exist. The rivalries between landowners are written in the street names. History is recorded in the roads and shopping centres. It's quite fascinating.
The book is basically a gazetteer of street names with the history of the street, it would be useful to locals or people looking up their family history and trying to work out where people lived and what sort of area they lived in.
3/5