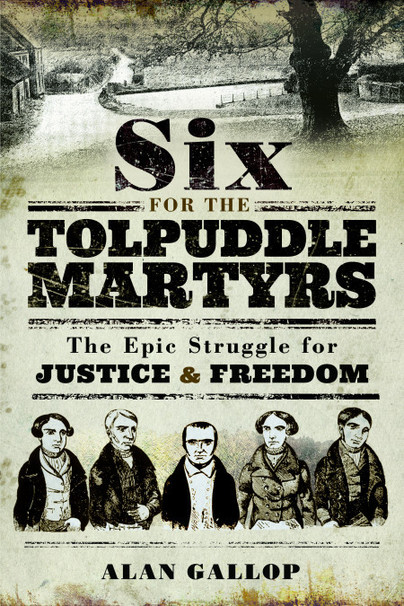 Published by: Pen & Sword  History 
Published: 5th June 2017
ISBN: 9781526712509
Price: £14.99
Blurb

In 1834 six farm labourers from the Dorset hamlet of Tolpuddle fell foul of draconian Victorian laws prohibiting 'assembly'. Today the names of George Loveless and his brother James, Thomas Standfield and his son John, James Brine and James Hammett, who made up the Tolpuddle Martyrs, stand high on the roll of British men who have been victimised for their beliefs but stood steadfast in the face of persecution. They refused to be persuaded to betray their principles either by the promise of release or by transportation to Australia. The Tolpuddle men fought to win their freedom sustained by their passionate conviction that their sacrifices would not be in vain. Their experience and example have proved to be an inspiration for future generations and they remain icons of pioneering trade unionism.

The Author has thoroughly researched their story and the result is a fascinating and revealing re-examination of this legendary saga. Their triumph over legal persecution and abuses of power over 180 years ago is told afresh in this comprehensive and attractively illustrated book which delves deeper into their story than ever before.
More details here
My Review
You've all heard of the Tolpuddle Martyrs, right? Right? No? Shame on you. Those poor men tried to form a perfectly legal union of farm labourers and a rigged court of their landlords and employers sent them to the penal colonies of Australia for it, on dubious charges.
The 'ringleaders', the Lovelesses, were Methodist lay preachers who had managed to educate themselves despite working 12 hour days on 7 shillings a week, barely keeping a roof over their heads, let alone food on the table and a fire burning. George Loveless, who first considered the idea of a union had amassed a small library and on his return wrote three very popular pamphlets.
The Whig government of the 1830's were terrified of insurrection, social unrest had been bubbling for decades since the French and American Revolutions. There was the infamous Peterloo Massacre in 1818 of working people in Lancashire. The Swing Riots and the Luddites had scared the landowners. Unions had been legal since 1824 and the fight to improve the lives of the working classes had been building in many cities.
When the Dorsetshire farm labourers of Tolpiddle (as it was known before the squeamish upper middle classes forced the change – the local river is the Piddle) had their wages cut from 8d a week, which was starvation wages to 7d a week, a few decided they would like parity with others in the neighbourhood, and asked for 10d a week. The local landlord and magistrate, Mr James Frampton, said no and pressured his tenant farmers who employed some of the men to keep the wages low.
So the labourers formed a union. George Loveless contacted Robert Owen of the Grand National Consolidated Trade Union with information about their situation and asked for advice. Two men came from London and a meeting was held in the upper room of the Standfield house, (Thomas Standfield was the oldest of the Martyrs and married to George and James Loveless's sister Dinniah). At the meeting the assembled labourers, about 20, learnt about the union and how they should run it.
Part of entry into the union was a rather theatrical initiation that was included in the instructions from London. The union men had to take an oath to support each other, pay a shilling to join and pay a penny a week to support anyone striking.
The oath was their downfall. Frampton sent spies to the weekly meetings and their testimony convicted the men. There was an obscure law pertaining to the navy, regarding illegal oaths. It wasn't a particularly old law and resulted from a minor mutiny in which some of the mutineers took oaths to stick together. It wasn't really applicable to the situation, but Frampton was a scared bully used to getting his own way. He bent the law to make it fit the situation and then packed the jury with his own people. The government of the day conspired in this travesty of a trial.
George Loveless, James Loveless, their brother-in-law Thomas Standfield, his son John Standfield, James Brine and James Hammett – the only non-Methodist among the six – were sentenced to seven year's transportation to Australia. James Hammett wasn't even at the meeting in question, his brother was. He also spent the longest time in Australia because the home and colonial governments both lost track of him.
In Australia the men were treat more harshly than other prisoners because the government was convinced they were part of some grand conspiracy to rise up and overthrow the land owners and capitalists. No such conspiracy existed, or if it did, Dorsetshire farm labourers had no knowledge of it. They were also hard workers, and their 'Masters' in Australia, especially Governor Arthur, delayed passing on their pardons in 1835 because they wanted their free labour to continue. Eventually, in 1836, five of the six men made it back to England, pardoned and to great acclaim, especially George Loveless, who wrote three pamphlets about their cause. James Hammett made it home in 1839, to much less noise and bluster, and joined the rest of the men in Essex where they had relocated.
Most of the men and their families made one final long journey to Canada in the 1840s, the Hungry Forties, when bad harvests made food scarce and the Corn Laws kept prices artificially high. They joined tens of thousands (probably more like hundreds of thousands) of English, Welsh, Scots and Irish people making the journey to another new world and the promise of land to farm if they wanted it. If you set aside the terrible damage this influx of Europeans had on First Nations peoples in Canada and the destruction of their cultures – the practice of removing children from their families and forcing them into residential schools where they suffered horrifying abuse and which still affects people to this day, started not long after – Canada proved to be a wonderful place for these poor farm labourers who could finally own their own land and homes. They all lived to a ripe old age and had plenty of descendants. Compared to their experiences in Australia it was practically paradise.
I knew about the Tolpuddle Martyrs, but not a huge amount. This book really expanded my knowledge of the subject. It is easy to read and fully illustrated with contemporary images as well as current photographs. The book provides some background to the worker's rights movement in Britain in the nineteenth century. I had a low opinion before of the upper classes, it hasn't improved on reading this; the more you know, the more obvious it becomes that they are and always have been selfish, greedy bastards.
4/5 for content and delivery.