Published by: Pen & Sword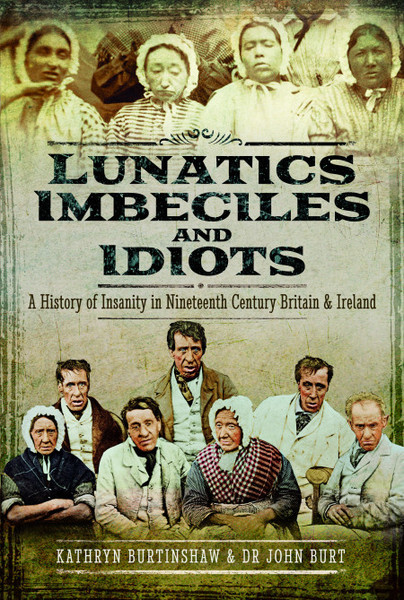 Publication Date: 3rd April 2017
I.S.B.N.: 9781473879034
Price: £15.99
Click cover for link to publishers page.
As ever, I was sent this book in return for an honest review. Thanks to Alex and Pen & Sword for sending me the book.
Blurb

In the first half of the nineteenth-century treatment of the mentally ill in Britain and Ireland underwent radical change. No longer manacled, chained and treated like wild animals, patient care was defined in law and medical understanding, and treatment of insanity developed.

Focussing on selected cases, this new study enables the reader to understand how progressively advancing attitudes and expectations affected decisions, leading to better legislation and medical practice throughout the century. Specific mental health conditions are discussed in detail and the treatments patients received are analysed in an expert way. A clear view of why institutional asylums were established, their ethos for the treatment of patients, and how they were run as palaces rather than prisons giving moral therapy to those affected becomes apparent. The changing ways in which patients were treated, and altered societal views to the incarceration of the mentally ill, are explored. The book is thoroughly illustrated and contains images of patients and asylum staff never previously published, as well as first-hand accounts of life in a nineteenth-century asylum from a patients perspective.

Written for genealogists as well as historians, this book contains clear information concerning access to asylum records and other relevant primary sources and how to interpret their contents in a meaningful way.
My Review
Yes, those people on the cover are all related, a group of siblings; of nine siblings, seven were in an asylum, and one was cared for by the remaining sibling, who was married with children and apparently the only one unaffected by whatever genetic malady was affecting the rest. Their parents were, according to their records, cousins. This book contains plenty of stories like that; of families depositing their mentally ill and developmentally disabled members in the asylums that started to pop up around the UK and Ireland in the Georgian and Victorian period. In earlier times, those considered 'idiots' or 'lunatics' were chained up in cow sheds or hidden in back rooms, sent to the workhouse, bedlam, or gaol, where they were manacled and straitjacketed.
A change in attitude developed first in Scotland, but really perfected by Quakers at York, was that of 'moral therapy', removing manacles, treating patients with respect, attempting to find ways to improve self-esteem and help those suffering from mental illness or born with developmental disabilities. There were never enough spaces  for those who needed help, and many were life-long patients, never being 'relieved into the care of' family members or recovering.
This is a useful book for those investigating their family history and coming across a disappearance of a family member – people didn't like to advertise their mad relatives, with directions for finding information and the type of information available from record. It is also a good addition to the collections of those interested in social history and the history of mental health care.
I'd have probably ended up in an asylum. If my (melancholy) depression hadn't put me there, my violent fits would have (be thankful if you have never seen me throw myself against walls and scream/snarl at everyone around me – I'm told it can be quite disturbing).
3/5